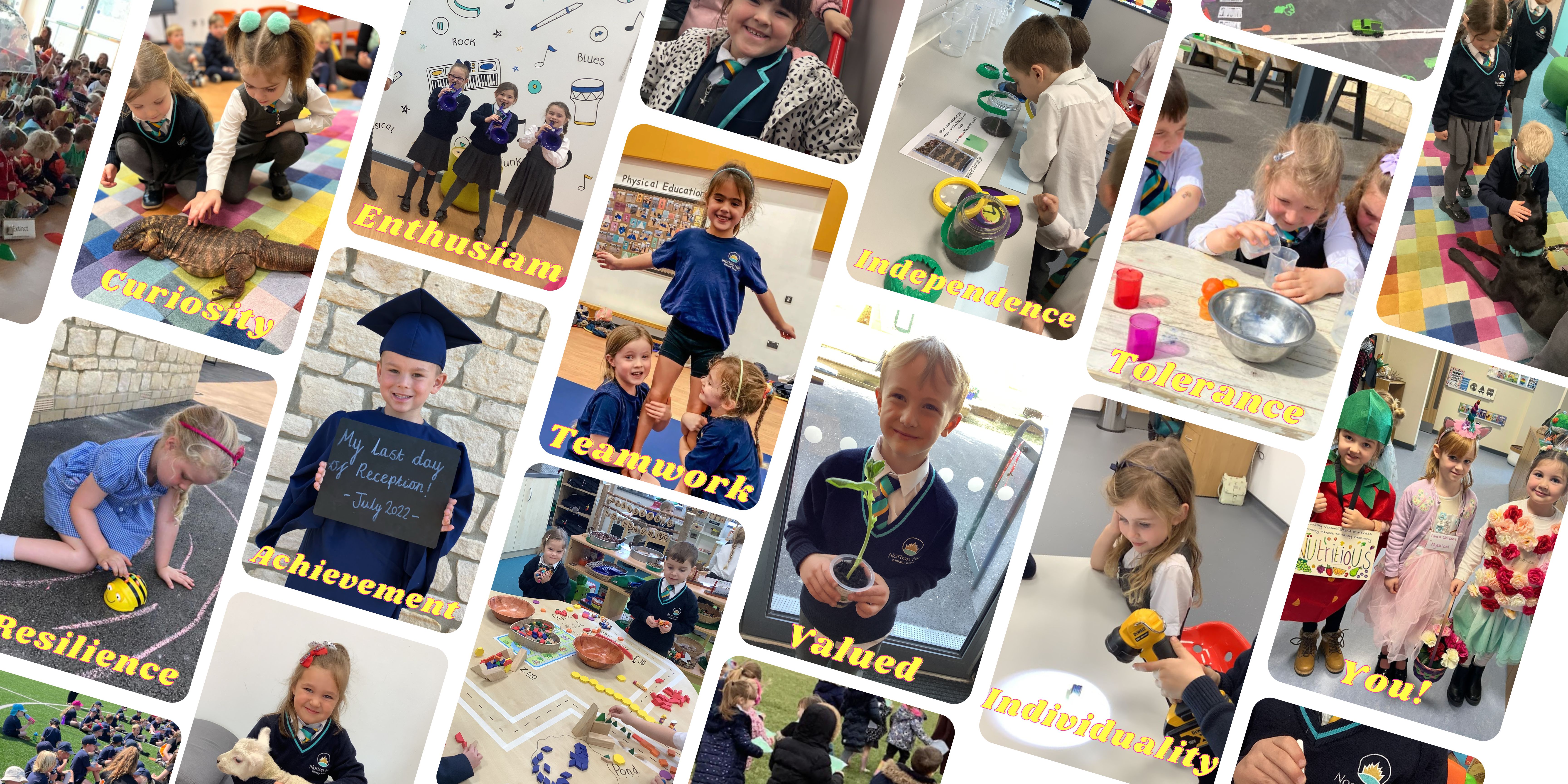 Norton Hill Primary School opened in September 2020 in temporary accommodation. We moved into our new building in January 2021.
We aim to provide an outstanding education across all aspects of the curriculum and will encourage our children and staff to undertake a journey of discovery whilst in our care.
Our pupils represent our school with enthusiasm and high standards of behaviour. Our children make good progress in their knowledge and skills, and they can articuclate their learning with confidence and understanding.
As a STEM school our curriculum is being developed to ignite children's curiosity and prepare them academically and personally for life. Our small but talented team put Norton Hill Primary pupils at the heart of everything they do, ensuring learning is experiential, engaging and effective. The curriculum is underpinned by a culture of appreciation, respect and moral purpose, developed through pupil voice and an emphasis on excellent PSHE education.
Our school is spacious, well resourced, with incredible outside facilities. We have a beautiful library as the hub of our school and we are investing heavily in high quality reading materials for all ages, this reflects our commitment to developing our pupils outstanding oracy and litreacy skills, as well as thier general knowledge and love of books.
We are always delighte to share more of what makes Norton Hill Primary such a great place to learn and encourage you to arrange an informal chat with our leadership team or arrange a school visit.
At Norton Hill Primary we are working with the stars of tomorrow, today! We believe that the future is bright for our pupils and it is our mission to set each and every one of them on the trajectory to success and fulfilment in their lives. We encourage them to focus on their personal success and also to become caring and considerate citizens, who are passionate about issues affecting their community and the wider world.
Our vision sets out our priorities for preparing our children for their next stage of education and beyond.
Our curriculum prepares all learners for a diverse and rapidly changing world
Progress is good and achievement is high in all subject areas.
The Norton Hill Team are highly skilled and reflective practitioners.
We ensure personal development and pupil voice are a central focus.

We have a common

belief that with effort, anything is achievable.
In addition, we see the following as being key to our ambitious curriculum plan:
At Norton Hill Primary, we challenge all to have the highest aspirations and to succeed in a safe and healthy learning environment,

through an appropriate and challenging curriculum that develops mastery of learning across subjects, with the right suppor- all can succeed and make a positive contribution.

Our focus on STEM is by design and will support our goal of creating

a love of learning including problem solving and mathematical understanding. Through this focus we believe children will develop outstanding intellectual skills and a thirst for critical thinking and investigation.

Our desire to focus on growing minds both in and outside of the classroom relates to our belief that too few children develop outstanding team, leadership and communication skills. We also know from our work at secondary school level that children develop outstanding levels of resilience when engaged in outdoor learning environments.

Our accessible and inclusive approach will open up outstanding learning opportunities to children from Midsomer Norton, irrespective of background or need. Through partnership working we will deliver excellence in everything

we do, maximising the strengths and expertise of our partners for the benefit of our children.
Curriculum Vision-In Core Subjects we will follow the national curriculum, however, we will use the freedoms available to us to develop and deliver a curriculum plan focused on excellence in STEM and outdoor learning. We see these as complementary strands: the natural and manufactured aspects of our environment also provide the arena for STEM enquiry to be pursued in outdoor learning for children. Problem-solving and investigation in the field develop both curiosity about STEM and at the same time can develop independence, resourcefulness and resilience outside the classroom. Equally they are the source of deep learning to take back into classroom literacy and numeracy.
Our values derive from CREATIVITY-Curiosity, Resilience, Enthusiasm, Achievement, Teamwork, Independence, Valued, Individuality, Tolerance, You!